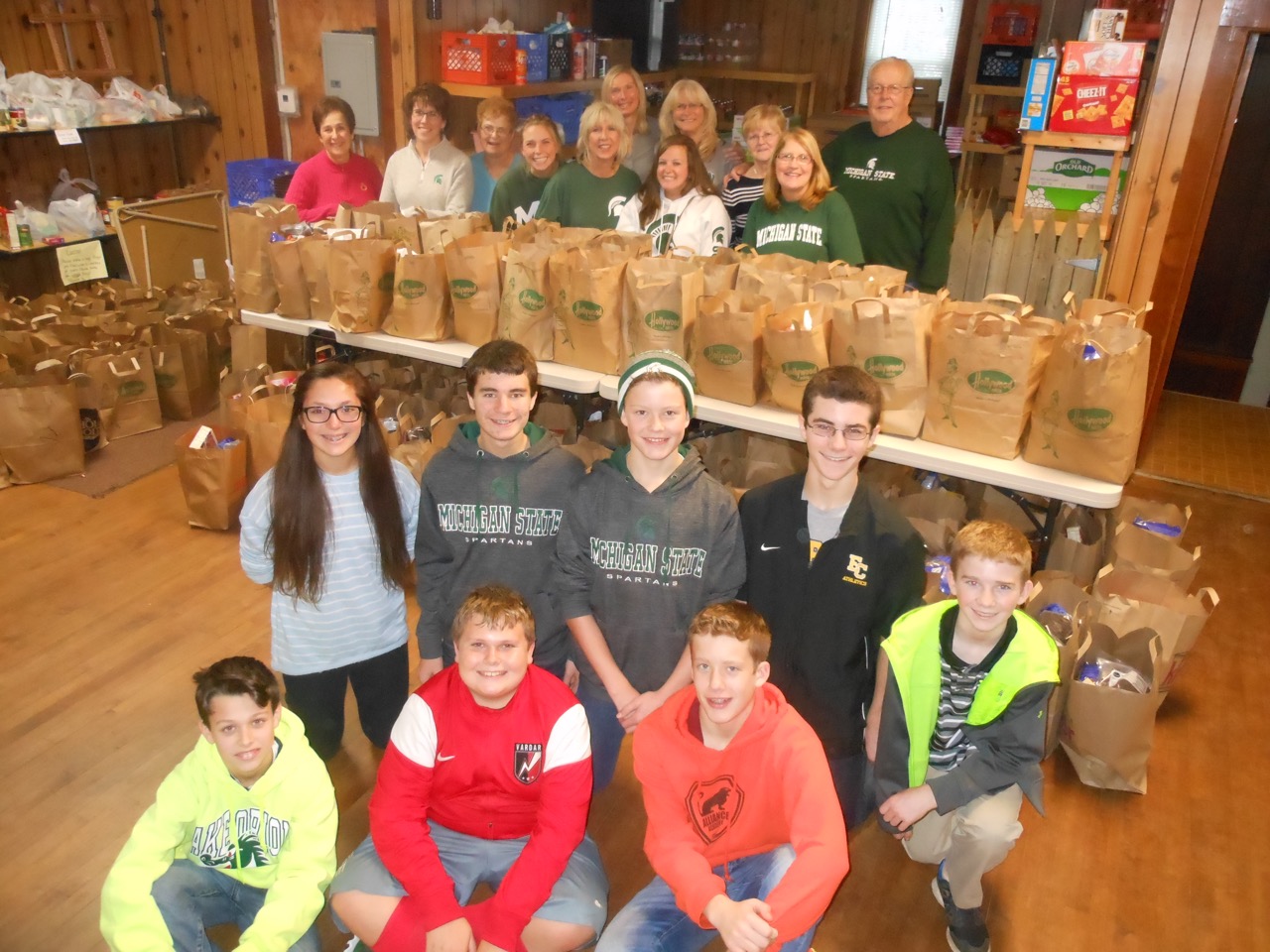 Oxford/Orion FISH provides emergency aid in the form of food and agency referrals to individuals in: Oxford, Lake Orion, Addison and Oakland Townships. People who have a need can call our office at:

(248) 628-3933

. Our daily volunteers will call you back, assess the problem, identify the need, and work toward a solution. The action may be an appointment for that afternoon at the FISH food pantry to receive emergency groceries for the week ahead, or for a referral to other agencies in the area for additional assistance. The phone volunteers keep detailed records of these calls as clients may receive food only once a month after a client review.
Since Oakland County is known as one of the wealthiest areas in the country, many people are surprised that there are families in need. Indeed, the need not only exists, but is growing at an alarming rate. Because of our generous neighbors, FISH also offers Thanksgiving and Easter dinners; AngelFISH which provides Christmas gifts for the children of our clients.

As an overview of our reach to the needy in our community, here's what we were able to accomplish in 2016:
Number of calls for help or service: 3,711

Number of household visits: 1,976 (165 per month)

Number of individuals served: 4,578 (382 per month)

Amount of food dispersed: 183,287 pounds
Medical help to one of our clients: A Lifeline for an MS patient
Number of school backpacks: 212 students received backpacks filled with school supplies

Number of Easter Dinner Baskets: 130 families received Easter Dinner Baskets

Number of Thanksgiving Dinner Baskets: 159 families, including many Heritage Place Senior Housing clients

Christmas gifts through our AngelFISH program: 154 children received Christmas gifts


Easter baskets and our Back-to-School Program provides school supplies and backpacks to needy children in our community.

Each FISH chapter across the country is chartered individually and operates independently according to the resources available to the chapter. There is no national umbrella or national organization. We are a group of volunteers who staff the telephone and pantry four days a week and four times a month solely for the elderly.


Oxford/Orion FISH has a board of directors who oversee the programs and services we offer on behalf of those in need in our community, make decisions on how best to respond to their needs, provide guidance and training to our volunteers, and support programs that insure our pantry shelves contain the highest quality goods we can provide.

While we work closely with other family-aid agencies to assist our neighbors, we are unique in that we are financially supported almost entirely by private contributions from residents, businesses, area churches and schools. Although the Gleaners, OLHSA (Oakland Livingston Human Services Agency) and Forgotten Harvest give us surplus food, most of our food is collected through local food drives conducted by groups such as the Postal Workers, Orion Neighborhood Television (ONTV), schools, businesses, churches, boy and girl scouts and local civic and religious organizations.
Food is also purchased from local merchants using the financial resources given to us from many individuals who donate to us, churches who tithe weekly, young groups such as scouts who collect bottles, cans and food; groups such as women's and men's clubs who find creative ways to support FISH with raffles, rummage sales, selling flowers, etc. Some supporters make cash or gift card donations regularly.
Oxford/Orion FISH only exists because of the community support we are blessed to receive.